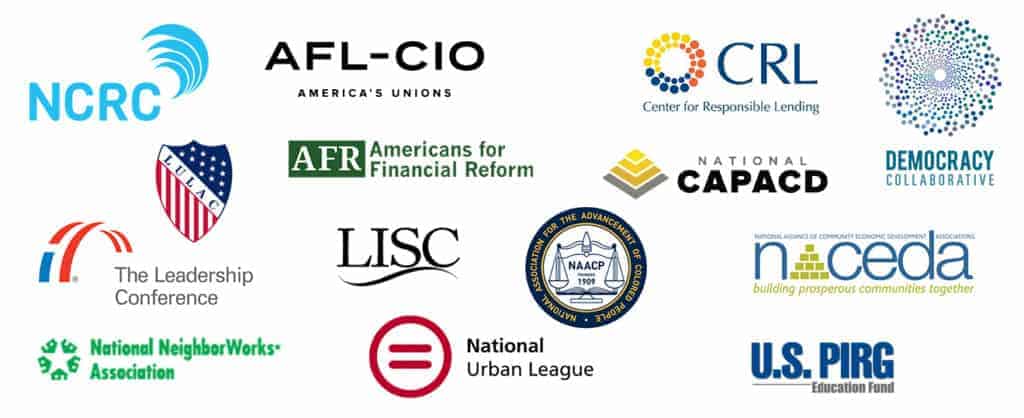 November 19, 2018
Reforming the Community Reinvestment Act Regulatory Framework
Docket ID OCC-2018-0008
To Whom it May Concern:
The undersigned groups maintain that the Community Reinvestment Act (CRA) has been one of the most valuable laws for increasing access to capital and credit for low- and moderate-income (LMI) communities. Any CRA reform effort needs to tread carefully and build upon CRA's success. When Senator Proxmire and other lawmakers were crafting CRA in 1977, their focus was on redlining in LMI communities and communities of color. As envisioned by the CRA statute, the antidote to redlining was CRA exams scrutinizing lending on a local level.
We agree that CRA needs an update. The agencies must expand assessment areas (geographical areas on CRA exams), require the inclusion of mortgage company affiliates on CRA exams, include communities of color on CRA exams, improve data, and increase opportunities for public input. In contrast, the OCC's proposals would undermine CRA's pillars of public input and local accountability and would thus result in significant declines in CRA-related loans, investments, and services. NCRC estimates that the OCC's dilution of assessment areas and local accountability would result in a dramatic loss in home and small business lending over a five year time period that would range from $52 to $105 billion.[1]
Assessment Areas Must be Expanded
CRA exams currently reach conclusions about bank performance in assessment areas or geographical areas encompassing bank branches. For banks that make the great majority of their loans through branch networks, assessment areas are effective in rating them. However for other banks that use the internet or other non-branch means to make large numbers of loans, current assessment area definitions must change (ANPR Question 13). Assessment areas can include geographical areas such as states, metropolitan areas, or rural counties where banks do not have branches but have significant volumes of loans or other business activity. Some OCC exams including the Bank of the Internet designate assessment areas in this manner.[2] Inexplicitly, the ANPR does not build upon this precedent. Instead, it discusses how lending and other activities outside of areas with bank branches can be considered in "the aggregate."[3] An "aggregate" consideration of activities outside of branch networks would not evaluate the activities in local areas and would fail to determine how responsive the activities were to local needs.
Estimates from studies conducted by Federal Reserve economists suggest that lending in LMI census tracts would be 10 to 20 percent lower when assessment areas are eliminated from exams or reduced in importance.[4] Any change in CRA must therefore retain assessment areas.
Automatic Inclusion of Affiliates on CRA Exams
CRA exams allow banks to either include or exclude their mortgage company affiliates on CRA exams. The natural tendency is for affiliates to be included on evaluations if they are lending to LMI borrowers and neighborhoods and to be excluded from exams if they are not. The optional inclusion of affiliates must be replaced with automatic inclusion.
People and Communities of Color Must be Considered on CRA Exams
In response to ANPR Questions 16 and 17, evaluations of lending to people and communities of color would further satisfy the original intent of the CRA legislation. During the 1977 hearings on CRA, Senator Proxmire stated, "banks will take their deposits from a community and instead of reinvesting them in that community, they will actually or figuratively draw a red line on a map around the areas of their city, sometimes in the inner city, sometimes in the older neighborhoods, sometimes ethnic and sometimes black, but often encompassing a great area of their neighborhood."[5]
Before the last changes to the CRA regulation in 1995, CRA exams analyzed lending to minorities as part of the fair lending section, which could be readily revived.[6] In addition, the agencies could develop a list of underserved census tracts based on data analysis showing low levels of loans per capita. A substantial number of these tracts would likely be predominantly minority. Lending, investment, and services in these tracts then could be evaluated by CRA exams.
CRA Ratings Must be Made More Rigorous
During the past several years, more than 98 percent of banks have passed their CRA exams. If the pass rate was not this high, CRA would be even more effective in motivating increases in loans, investments, and services to LMI communities. One way to improve rigor is if the overall ratings were accompanied by a publicly released point score.[7] For example, an Outstanding rating could be achieved if a bank had a score of 90 to 100, while a Satisfactory rating could be achieved if a bank had a score of 70 to 90. This point scale would reveal more gradations in performance. For example, a Satisfactory rating accompanied by a score of 70 is just barely passing while a Satisfactory rating accompanied by a score of 89 is essentially a High Satisfactory rating.
Data Must be Improved on CRA Exams
The small business loan part of the lending test is not as rigorous as the home lending section because the small business data is not as detailed. Therefore, small business data must be improved to include more categories rather than only lending to businesses above and below $1 million in revenue. Likewise, the community development (CD) parts of the exam must be improved with annual CD data for census tracts and counties. In addition, banks must be penalized via lower ratings if their CD activity finances displacement of LMI people such as low-income tenants from multifamily housing.
Community Benefits Agreements and Conditional Approvals Considered on CRA Exams
We appreciate that the OCC's June 2018 memo instructs CRA examiners to determine whether banks are meeting the goals in CRA plans required in conditional merger approvals.[8] Any conditional merger approval, however, must include a bona fide plan that focuses lending, investment, and service on LMI borrowers and communities. CRA examiners must also assess bank compliance with community benefit agreements (CBAs) that are negotiated with community groups and include clear goals. In addition, a passing CRA rating must not become a safe harbor providing expedited merger approvals. Bank performance may have changed since the last CRA exam, necessitating analysis of whether the merger will confer public benefits.
The OCC's One Ratio Concept would Diminish Assessment Areas and Public Input
The one ratio would consist of the dollar amount of a bank's CRA activities (loans, investments, and services to LMI borrowers and communities) divided by the bank's assets. The ratio is supposed to reflect CRA effort compared to a bank's capacity and would influence a bank's CRA rating.[9] While the one ratio may have a simplistic allure, it would interfere with the ability of examiners to ensure that banks are meeting their statutory responsibilities. The statute states that banks "have continuing and affirmative obligations to help meet the credit needs of the local communities in which they are chartered."[10] The key word is local.
One ratio cannot tell an examiner, a bank, or a member of the public how responsive a bank is to its various assessment areas. In contrast, current CRA exams scrutinize the extent to which a bank makes loans, investments, and services to LMI people and communities in its assessment areas. Also, an exam focused on the one ratio would not be able to effectively consider community group comments regarding banks' records on meeting local needs (Question 11 of the ANPR).
Weighting cannot overcome the flaws of a one ratio. For instance, an investment of $1 million in a distressed community can be weighted by a factor of two, meaning it will count for $2 million in the numerator of the ratio (see Question 10 of the ANPR). Consider how complicated and subjective it would be to do this weighting for banks, particularly those which serve several states. Also, generous and frequent weighting (multiplying loans and investments by 2 or more) could easily result in half or less the dollar amount of loans and investments.
Analysis of Branches and Services Must Remain on CRA Exams
In response to ANPR Question 27, branches must remain on CRA exams because they are critical for helping LMI people obtain loans. Academic research has revealed that home and small business lending increases in LMI neighborhoods with bank branches.[11] In contrast, when branches close, lending decreases for several years, especially small business lending.[12]
The OCC Must not Broaden CRA Away from the Focus on Credit Needs of LMI People and Communities
Industry trade associations have advocated broadening CRA consideration for activities such as infrastructure improvements and financial education for middle- and upper-income people and communities.[13] [14] However, diverting attention away from LMI communities is contrary to Senator Proxmire's intention that CRA rectify redlining and increase access to credit for underserved populations. Redlining and market imperfections unfortunately continue to afflict LMI communities. Therefore, dilution of attention to LMI communities will significantly decrease lending in them.
The ANPR discusses the possibilities of expanding the range of activities considered by CRA such as digital literacy or internships.[15] However, consideration for activities that do not directly combat redlining and/or lack of access to banking will result in a regulation that frustrates the purpose of CRA to revitalize credit starved communities.
If home and small business lending to LMI people and communities were no longer considered as hinted at in ANPR Question 21, this would violate the intent of Senator Proxmire who was concerned that the agencies were not assessing whether banks were meeting credit needs.[16] In addition, consumer lending meets important needs such as buying vehicles in areas lacking transit. CRA exams must consider consumer lending and ensure that it is responsible and does not violate consumer protection law. Finally, the OCC in Question 23 asks whether Small Business Administration (SBA) standards should be used in evaluating the financing of small businesses. The SBA standards include businesses with several millions of dollars in revenue and would divert CRA exams from their focus on assessing whether banks are meeting the needs of the smallest businesses.[17]
Asset Thresholds for CRA Exams: Reform Must not Reduce Requirements for Any Category of Banks
Eliminating the Intermediate Small Bank (ISB) category as some advocate means that the ISB banks would just have a retail test which does not consider their community development financing. [18] NCRC estimates that ISBs finance about $3 billion annually in CD projects or about the same amount of annual funding as the Community Development Block Grant (CDBG) program. If the CD test is eliminated for ISB banks, their CD financing would plummet.[19] We also oppose any other changes to asset categories that would eliminate the service test and analysis of branching.
Conclusion
Bolstering the effectiveness of CRA would entail increasing opportunities for public input, improving data on CRA exams, mandating the inclusion of affiliates, evaluating bank financing to people and communities of color, and expanding assessment areas. In contrast, the OCC proposes reforms that would result in less lending, investing, and services in LMI communities. These changes include the one ratio, diverting attention from LMI communities, and broadening consideration of activities that are not related to meeting credit and community development needs.
Over the last several months, the OCC has made unilateral changes to CRA that stretch out CRA exams for large banks and weaken fair lending and merger reviews of all banks. The OCC must rescind these changes and align any future changes to the CRA regulation and examination procedures with the Federal Reserve Board and the Federal Deposit Insurance Corporation (FDIC).[20] [21] [22]
We are submitting this letter on behalf of the underserved organizations. If you have any questions, please contact us or Josh Silver, Senior Advisor at NCRC, on 202-628-8866.
Sincerely,
John Taylor
President and Founder, NCRC
Jesse Van Tol
Chief Executive Officer, NCRC
National Organizations
AFL-CIO
Americans for Financial Reform
Center for Responsible Lending
Democracy Collaborative
Leadership Conference on Civil and Human Rights
League of United Latin American Citizens
Local Initiatives Support Corp (LISC)
NAACP
National Coalition for Asian Pacific American Community Development (CAPACD)
National Alliance of Community Economic Development Association (NACEDA)
National NeighborWorks Association
National Urban League
US PIRG
Alabama
Alabama Association of Community Development
Building Alabama Reinvestment
Center for Fair Housing, Inc.
Community Action Association of Alabama
Fair Housing Center of Northern Alabama
MLK Avenue Redevelopment Corporation
National Business League of Alabama
Titusville Development Corp
Urban Impact, Inc.
Arizona
Arizona Housing Coalition
Behold Charities International
Chicanos Por La Causa
Junto Affordable Housing Inc.
Newtown Community Development Corporation
Prima County Community Advocate
Arkansas
Community Resources Technicians
People Trust
California
Access Plus Capital
American GI Forum
Azul MSI
Black Business Association
California Coalition for Rural Housing
California Community Economic Development Association
California FarmLink
California Housing Partnership
California Reinvestment Coalition
California Resources and Training
CashCommunityDevelopment.org
CCEDA
CDC Small Business Finance
Center for Urban Economics and Design
Chicana Latina Foundation
City of Livingston
Council of Asian Americans Business Associations CA
CRHCC
Democracy at Work Institute
EAH Housing
El Concilio of San Mateo County
Fathers and Families of San Joaquin
Haven Services
Housing and Economic Rights Advocates
Housing Coalition Educators
IEWBC
Inland Empire Latino Coalition
Law Foundation of Silicon Valley
Montebello Housing Development Corporation
The National Cultural Center of the Native Americans
Neighborhood Housing Services of the Inland Empire
Northern Californian Community Loan Fund
OCCUR
Peoples' Self-Help Housing
Robert Zdenek Associates- Connecting Communities
Rural Community Assistance Corporation
San Francisco African American Chamber of Commerce
Self-Help Enterprises
Tenderloin Neighborhood Development Corporation (TNDC)
The Central Valley Urban Institute
The Greenlining Institute
UCI Paul Merage School of Business
Vermont Slauson Economic Development Corporation
Colorado
Douglas County Housing Partnership
First Nations Oweesta Corporation
Mi Casa Resource Center
Connecticut
Concerned Black Clergy Council of Waterbury
Connecticut Citizen Action Group
Hartford Community Loan Fund
Neighborhood Housing Services of Waterbury
Women's Institute for Housing & Economic Development
Yale University Program for Recovery and Community Health
District of Columbia
Advocates for Elder Justice, Hilda & Charles Mason Charitable Foundation, Inc.
Anacostia Economic Development Corporation
Central American Resource Center (CARECEN)
Housing Up
Latino Economic Development Center
Laura Zam Enterprises
MANNA, Inc.
National Association of American Veterans, Inc.
Network for Developing Conscious Communities
Partners for Livable Communities
Romijen Wellness
Delaware
Be Ready Community Development Corporation
CCHS
Central Baptist Community Development Corporation
Delaware Community Reinvestment Action Council, Inc.
Edgemoor Revitalization Cooperative, Inc.
Ellendale Community Civic Improvement Association
Habitat for Humanity of New Castle County
Housing Alliance Delaware
National Council on Agricultural Life & Labor Research Fund, Inc. (NCALL)
Nehemiah Gateway Community Development Corp.
Neighborhood House, Inc.
University of Delaware
Florida
Affordable Homeownership Foundation Inc.
BBIF Florida
Bright Community Trust
CDC of Tampa
CEGTBA, Inc.
Clearwater Neighborhood Housing Services Incorporated
Community Reinvestment Alliance of South Florida
Consolidated Credit Solutions, Inc.
Debt Management Credit Counseling
FL Alliance of Community Development Corporations
Florida Housing Coalition
Fusilier Realty Group
Future Leaders Community Development Corporation
H.O.M.E.S., Inc.
Haitian American Community Development Corporation
Home Ownership Resource Center of Lee County, Inc.
Housing and Education Alliance
Lee County Housing Development Corp.
Metro North Community Development Corp.
Mezrah Consulting
Miami Beach CDC
Neighborhood Housing Services of South Florida
Neighborhood Renaissance, Inc.
New Urban Development
REACH
Real Estate Education And Community Housing Inc.
REVA Development Corporation
Solita's House Inc.
South Florida CLT
St. Petersburg Neighborhood Housing Services, Inc. (dba Neighborhood Home Solutions)
Struggle for Miami's Affordable and Sustainable Housing, Inc.
Trinity Empowerment Consortium
Urban Philanthropies
We Help Communities to Develop Corporation
Wealth Watchers Inc.
Georgia
CCCS of the Savannah Area, Inc.
Community Outreach Training Center, Inc.
D&E, The Power Group
Georgia Advancing Communities Together, Inc.
Housing Justice League
JCVision and Associates, Inc.
National Housing Counseling Agency
Southwest Georgia United Empowerment Zone, Inc.
Hawaii
Council for Native Hawaiian Advancement
Hawai'i Alliance for Community-Based Economic Development
Hawaiian Community Assets
Illinois
Chicago Community Loan Fund
Chicago Urban League
Economic Growth Corp.
Global Network
Heartland Alliance for Human Needs and Human Rights
Housing Action Illinois
IFF
Institute of Cultural Affairs [ICA]-USA
NHS of Chicago
Northwest Side Housing Center
Oak Park Regional Housing Center
Open Communities
Partners in Community Building, Inc.
Spanish Coalition for Housing
Universal Housing Solutions CDC
Woodstock Institute
NHS of Chicago
Indiana
Community Investment Fund of Indiana
Fay Biccard Glick Neighborhood Center at Crooked Creek
Gary Economic Development Corporation
HomesteadCS
HOPE of Evansville, Inc.
Irvington Development Organization
John Boner Neighborhood Centers
LaCasa, Inc.
Mapleton Fall Creek Development Corporation
Martin University
Martindale Brightwood Community Development Corporation
Memorial CDC
Northwest Indiana Reinvestment Alliance
NSP Consultants, LLC
Pathfinder Services, Inc.
Prosperity Indiana
Westside Community Development Corporation
Iowa
River Cities Development Services
Scott County Housing Council
Kentucky
Louisville Affordable Housing Trust
REBOUND, Inc.
River City Housing
The Urban Coalition of Appraisal Professionals
Louisiana
Foundation for Louisiana
Greater New Orleans Housing Alliance
HousingNOLA
Kingsley House Inc.
LiftFund Inc.
Multi-Cultural Development Center
Neighborhood Development Foundation
New Day Homeowner Services
People's Organization of Social Equality
Treme Market Branch
UMOJA Institute of African America Culture Trade and Economic Development Inc.
Massachusetts
BCC
Common Capital
Dorchester Bay Economic Development Corporation
Fair Housing Center of Greater Boston
Fenway Community Development Corporation
Lawrence CommunityWorks, Inc.
Local Enterprise Assistance Fund (LEAF)
Mass. Association of Community Development Corp.
Massachusetts Affordable Housing Alliance
Massachusetts Communities Action Network
NeighborWorks Southern Mass
Oak Hill CDC
Revitalize Community Development Corporation
Urban Edge
Maryland
Baltimore Community Lending, Inc.
Baltimore Neighborhoods, Inc.
CityLabs USA
Coppin Heights CDC
Greater Baltimore Community Housing Resource Board
Heritage United Church of Christ
HomeFree-USA
Housing Options & Planning Enterprises, Inc.
Maryland Consumer Rights Coalition
Neighborhood Housing Services of Baltimore
People of Change Coalition
Southeast Community Development Corporation
The Historic Marble Hill Community Association
Maine
Coastal Enterprises, Inc.
Genesis Community Loan Fund
Quattrucci & Company
Michigan
Bridging Communities, INC.
Building Families First Community Organization
Building Movement Project/Detroit People's Platform
CDAD
Community Economic Development Association of Michigan
Cooperative Capital
Detroit Homeownership Center CDC
Detroit Non-Profit Housing
Detroit People's Platform
Fair Housing Center of Metropolitan Detroit
Financial Justice Coalition
GenesisHOPE
Housing Resources, Inc.
Metro Community Development, Inc.
Michigan Community Action
Michigan Community Reinvestment Coalition
Mid Michigan Community Action Agency
Neighborhood Legal Services Michigan
Neighborhood Service Organization (NSO)
New Development Corporation
New Hope Community Development
Southwest Economic Solutions
Southwest Solutions
U SNAP  BAC
Minnesota
Asian Economic Development Association
Community Reinvestment Fund, USA
Dayton's Bluff Neighborhood Housing Services
Jewish Community Action
Mid-Minnesota Legal Aid
Voices for Racial Justice
Missouri
AltCap
Community Property Ventures
Consumers Council of Missouri
CREA
Forward Through Ferguson
International Institute Community Development Corporation
Justine Petersen
Metropolitan St. Louis Equal Housing and Opportunity Council
NHS of Kansas City, Inc.
Old North St. Louis Restoration Group
R.A.A.- Read, Aim, Advocate
Travois
Useful Community Development
Washington University School of Social Work
Mississippi
Breakthrough Community Services, Inc.
CFORM/CovenantCDC
Covenant Faith Outreach Ministries Inc./covenantcdc
Golden Triangle Housing Services
Housing Education and Economic Development
Mississippi Housing Partnership
Nebraska
Family Housing Advisory Services
Neighborworks Lincoln
New Mexico
Southwest Neighborhood Housing Services
United South Broadway Corporation
New York
Affordable Housing Partnership Homeownership Center
Albany Community Land Trust
Arbor Housing and Development
Association for Neighborhood and Housing Development (ANHD)
Beaulac Associates LLC
Bridge Street Development Corporation
Buffalo Niagara Community Reinvestment Coalition
Center for NYC Neighborhoods
Central lslip Civic Council
CNY Fair Housing, Inc.
Community Capital New York
Community Development Alliance of the Capital District
Community Loan Fund of the Capital Region, Inc.
Devotion NYC
Empire Justice Center
Fair Finance Watch
HomeSmartNY
Human Development Services of Westchester
La Fuerza Unida, Inc.
Long Island Housing Services, Inc
New Economy Project
New York State Senator James Sanders
New York State Wide Senior Action Council
NHP Foundation
PathStone Enterprise Center
Rockland Housing Action Coalition
Rural housing Opportunities Corp.
St. Nicks Alliance
TSC Grand, Ltd.
United Tenants of Albany, Inc.
White Wing Education Community
University Neighborhood Housing Program
New Hampshire
New Hampshire Community Loan Fund
New Jersey
Fair Housing Council
Jersey Counseling & Housing Development, Inc.
National Housing Institute
New Jersey Association on Correction
New Jersey Citizen Action
NJ NAACP
Urban League of Essex County
Nevada
Nevada Legal Services
North Carolina
Action NC
Centre for Homeownership & Economic Development Corporation
Circle of Mercy
Community Link
DHIC
Durham Regional Financial Center
EXCEED, Inc.
Henderson & Company
NC Housing Coalition
New Frontier CDC
North Carolina Housing Coalition
Rebuild Durham Inc.
S J Adams Consulting
The Institute of Minority Economic Development
White Oak Foundation Inc.
Ohio
Akron NAACP
Advocates for Basic Legal Equality
Akron Baptist Church
Another Chance Ohio
Antioch Baptist Church
Baptist Ministers Conference of Cincinnati
Breaking Chains Inc.
Buckeye Shaker Square Development Corp.
Burten, Bell, Carr Development, Inc.
Catholic Commission of Summit County
Central Ohio Fair Housing Association, Inc.
Charisma Community Connection
Cincinnati Change Inc.
Cincinnati Community Action Agency
City of Bedford Heights
City of Cleveland Heights, Ohio
City of Cleveland- Dept. of Community Development
City of Dayton Human Relations Council
City of South Euclid
CityWide Development Corporation
Cleveland Neighborhood Progress
Collective Empowerment Group
Communities United for Action
Community Action Agency of Cincinnati-Hamilton County
Community Development Corporations Association of Greater Cincinnati
Community Development for All People
Community Housing Solutions
Community Matters
County Corp
Detroit Shoreway Community Development Org.
ECDI
Economic and Community Development Institute
Education Motivation Success, Inc.
Empowering and Strengthening Ohio's People (ESOP)
Fair Housing Center
Fair Housing Contact Service
Fair Housing Resource Center, Inc.
Faith Community Alliance of Greater Cincinnati
Famicos Foundation
Federation of Network Ministries
Friends of the African Union Chamber of Commerce
Greater Cincinnati Microenterprise Initiative (GCMI)
Greater Cleveland Reinvestment Coalition
Greater Dayton Minority Business Assistance Center
Habitat for Humanity of Greater Dayton
Hamilton County Community Reinvestment Group
Harrison Township
Heart to Heart Family Support Center
Helping Hands Community Outreach
Home Repair Resource Center
Homes on the Hill, CDC
Isonomy Consulting
Jerry Sykes, Toledo City Councilman
JOVIS
J-RAB
L.A. Keyz Financial Services
Madisonville Community Urban Redevelopment Corporation
Metro West Community Development Organization
Miami Valley Fair Housing Center, Inc.
Miami Valley Urban League
Mustard Deed Development Center
Nazareth Housing Dev. Corp.
Neighborhood Housing Services of Greater Cleveland
NeigborWorks Collaborative of Ohio
Ohio CDC Association
Ohio Fair Lending
Omega Community Corporation
One South Euclid
Peter Ujvagi, Toledo City Council Member
Rebuilding Together Dayton
Slavic Village Development
Small Business Development Center at TEC
The Fair Housing Center
The Pride Through Empowerment Foundation, Inc.
Village Capital Corporation
Working in Neighborhoods
YWCA Dayton
Oklahoma
Mvskoke Loan Fund
Oregon
CASA of Oregon
Community Housing Fund
Community Development Corporation of Oregon
Grounded Solutions Network
Kate Allen Community Development Services
Neighborhood Economic Development Corporation
ONABEN
Redix Consulting Group, LLC
REACH Community Development
Willamette Neighborhood Housing Services
Pennsylvania
Allentown Housing Authority
Amani
Center for Family Services, Inc.
Clarifi
Community Action Committee of the Lehigh Valley, Inc.
Community First Fund
Community Neighbors United
Five/Four Advisors
Hilltop Alliance
Lancaster Equity CDC
Neighborhood Housing Services of Greater Berks, Inc.
Oakland Planning and Development Corporation
Philadelphia Association of Community Development
Philadelphia Chinatown Development Corporation
Pittsburgh Community Reinvestment Group
Southwest Community Development Corporation
United Communities Southeast Philadelphia
Uptown Partners of Pittsburgh
ASSETS
Rhode Island
Capital Good Fund
Church Community Housing Corporation
Housing Network of Rhode Island
HousingWorks RI
NeighborWorks Blackstone River Valley
South Dakota
GROW South Dakota
South Carolina
Greenville County Redevelopment Authority
Tennessee
BLDG Memphis
Chattanooga Organized for Action
Good Neighbor Foundation HomeOwnership Center
Latino Memphis
Lincoln Park Neighborhood Association
Memphis Urban League
New Level Community Development Corp
Tennessee Fair Housing Council
The Fifteenth Avenue Baptist CDC
You Can Make It HomeOwnership Center
Texas
Arx Advantage Housing Consultants
BCL of Texas
Community Council of Greater Dallas
Covenant Community Capital
C.R.C.
Dallas City Homes
El Paso Collaborative for Community & Economic Development
Frameworks Community Development Corporation
Harlingen CDC
Home Sweet Home Community Redevelopment
Housing Channel
Humanitas Community Development Corporation
Jefferson Community Housing Development Foundation, Inc.
Mathis Economic Development Corporation
New Hope Housing, Inc.
Our Casas Resident Council INC.
PeopleFund
Pine Place Development, LLC
PVAMU
Southeast Houston CDC
Texas Homeless Network
The Alliance
The CREED
VN TeamWork, Inc.
Women Opting for More Affordable Housing Now, Inc. (WOMAN, Inc.)
Utah
Jon M. Huntsman School of Business at Utah State University
Neighborhood Nonprofit Housing Corporation
Vermont
Fair Housing Project, CVOEO
Housing Vermont
Virginia
Community Business Partnership
Emerging Financial Concepts
Housing Opportunities Made Equal of Virginia
SCDHC
Southside Community Development and Housing Corporation
Washington
Beacon Development Group
Greenfield Institute
Northwest Fair Housing Alliance
Wisconsin
Citizen Action of Wisconsin
Forward Community Investments
Havenwoods Economic Development Corp
Inner City Redevelopment Corp.
Metropolitan Milwaukee Fair Housing Council
NeighborWorks Green Bay
Nothing Less, Inc.
Riverworks Development Corporation
Urban Economic Development Association of Wisconsin, Inc.
Wisconsin Partnership for Housing Development
---
[1] NCRC Forecast: Weakening the Community Reinvestment Act Would Reduce Lending by Hundreds of Billions of Dollars, September 2018, https://ncrc.org/ncrc-forecast-weakening-the-community-reinvestment-act-would-reduce-lending-by-hundreds-of-billions-of-dollars/
[2] See Bank of the Internet's CRA exam, https://www.occ.gov/static/cra/craeval/nov16/716456.pdf
[3] Office of the Comptroller of the Currency, Reforming the Community Reinvestment Act Regulatory Framework Advance Notice of Proposed Rulemaking (ANPR), Federal Register, Vol. 83, No. 172, Wednesday, September 5, 2018, Proposed Rules p. 45057, https://www.regulations.gov/document?D=OCC-2018-0008-0001
[4] Lei Ding and Leonard Nakamura, Don't Know What You Got Till It's Gone: The Effect of the Community Reinvestment Act on Mortgage Lending in the Philadelphia Market, Federal Reserve Bank of Philadelphia, Working Paper 17-15, June 2017, https://www.philadelphiafed.org/-/media/research-and-data/publications/working-papers/2017/wp17-15.pdf
[5] Congressional Record, June 6, 1977, p. 17630.
[6] Examples of people of color analyzed by CRA exams include; Federal Reserve Bank of Richmond, CRA Exam of Signet Bank, January 1996, pgs. 18-20,  https://www.federalreserve.gov/dcca/cra/1996/460024.pdf and Office of Thrift Supervision CRA Exam of CenFed Bank, November 1995, p. 9, https://www.occ.gov/static/cra/craeval/OTS/CRAE_01788_19951127_60.pdf
[7] CRA exams today have a point score range of 1 to 24 that is not intuitive, and the points are not publicly released.
[8] OCC, Description: Supervisory Policy and Processes for Community Reinvestment Act Performance Evaluations, OCC Bulletin 2018-17, June 2018, https://www.occ.gov/news-issuances/bulletins/2018/bulletin-2018-17.html
[9] Office of the Comptroller of the Currency (OCC), Advance Notice of Proposed Rulemaking (ANPR), Federal Register, Vol. 83, No. 172, Wednesday, September 5, 2018, https://www.gpo.gov/fdsys/pkg/FR-2018-09-05/pdf/2018-19169.pdf, pgs. 45056 and 45057.
[10] Section 802(a)(3) of the CRA statute.
[11] For a literature review of the impact of branches and assessment areas, see Josh Silver, The Importance of CRA Assessment Areas and Bank Branches, NCRC, June 2018, https://ncrc.org/the-importance-of-cra-assessment-areas-and-bank-branches/
[12] Hoai-Luu Q. Nguyen, Do Bank Branches Still Matter? The Effect of Closings on Local Economic Outcomes, December 2014, http://economics.mit.edu/files/10143
[13] Rachel Witkowski, Will CRA Finally Get its Makeover, American Banker, March 9
[14] American Bankers Association, CRA Modernization, Meeting Community Needs and Increasing Transparency, December 2017, p. 2, https://www.aba.com/Advocacy/Documents/CRA-WhitePaper2017.pdf#_ga=2.192150499.839944790.1512674294-422164602.1512674294
[15] ANPR, page 45057-45058.
[16] Congressional Record – Senate, January 24, 1977, p. 1958.
[17] U. S. Small Business Administration Table of Small Business Size Standards Matched to North American Industry Classification System Codes. Version 2017. Available online at https://www.sba.gov/sites/default/files/2018-07/NAICS%202017%20Table%20of%20Size%20Standards.pdf.
[18] American Bankers Association, Second Published Request for Comments Under the Economic Growth and Regulatory Paperwork Reduction Act of 1996 (February 13, 2015), p. 7, https://www.regulations.gov/document?D=FFIEC-2014-0001-0077
[19] NCRC, Intermediate Small Banks, the Forgotten but Significant Resource for Affordable Housing and Community Development, https://ncrc.org/intermediate-small-banks-forgotten-significant-resource-affordable-housing-community-development/
[20] OCC Bulletin 2018-17, June 15, 2018, https://www.occ.gov/news-issuances/bulletins/2018/bulletin-2018-17.html
[21] OCC Bulletin 2018-23, August 15, 2018, https://www.occ.gov/news-issuances/bulletins/2018/bulletin-2018-23.html
[22] OCC, Impact of CRA Ratings on Licensing Applications, November 2017, https://www.occ.gov/publications/publications-by-type/other-publications-reports/ppms/ppm-6300-2.pdf