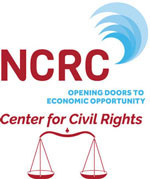 NCRC's mission is to increase fair & equal access to credit, capital and banking services/products because discrimination is illegal, unjust and detrimental to the economic growth of underserved communities in the US & around the world.
NCRC seeks to support, create and implement long-term solutions which includes providing tools and strategies for building community and individual economic well-being.
Organization
Chief: Stella Adams
Director of Fair Housing: Tracy McCracken
Director of Fair Lending: Anneliese Lederer
The Center for Civil Rights (CFCR) provides technical assistance to NCRC's members in urban, suburban and rural communities to promote economic mobility, to ensure fair housing for working families, and to ensure fair lending for women- and minority-owned businesses throughout our nation. The CFCR program also convenes, supports and pursues workshops, conferences, investigations of civil rights complaints, systemic "testing" of financial and real estate entities, and compliance initiatives that encourage "best practices."
The Center for Civil Rights (CFCR) advances fair lending and fair housing practices through multifaceted programs, including: private enforcement; education and outreach; fair housing planning; comprehensive voluntary compliance services; and building partnerships among communities, real estate providers, financial institutions and other market players.
Related Items
A Critical Step for Fair Housing and Mobility: HUD's Proposed Small Area Fair Market Rent Rule (Webinar)
NCRC Reacts to Supreme Court Decision Upholding Use of Disparate Impact Analysis in Fair Housing