This is part of a series of profiles showcasing the talented entrepreneurs of NCRC's DC Women's Business Center. Melissa A. Little Consulting & Mediation Services LLC is a women-owned business, started by Melissa Little, that is committed to creating safe and inclusive environments.
What kind of product or service do you sell? 
We provide customized diversity, equity and inclusion (DEI) services that are tailored to transform mindsets and company culture, increase awareness and create inclusive and equitable workplace environments. This includes training, cultural assessments, facilitated workshops, strategic planning, ongoing advice and support, policy review and conflict resolution services (mediation).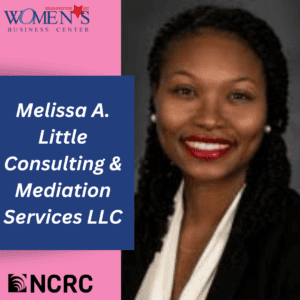 Are you a registered business owner and how long have you been in business?
Yes, I'm registered in DC and have been in business for two years.

What inspired you to start your business? 
Throughout my professional career as an education law attorney and community leader, I have worked to build awareness around social injustices and develop and implement policies that create equitable and welcoming safe spaces. The wave of civil unrest triggered by the murder of George Floyd inspired me to do more. I wrote a book, "Protecting Our Children Together: Minimizing the Psychological Harms of Racism," and created an online course for adults on the importance of talking with all youth about race and developing strategies to build a positive racial identity in children of African descent. In addition to working with individual clients on ways to support a healthy racial identity, I help businesses and educational institutions develop the knowledge, skills and policies needed to create a more diverse, inclusive, safe and equitable workplace.
How has DCWBC helped you through your journey?
DCWBC provided me with the tools and resources that I needed to get my business started. I continue to rely on DCWBC's webinars and trainings to help with business growth and development. The individual counseling sessions are also very helpful when you are in need of more personalized attention.
What advice would you give other women who want to start their own business? 
There are many resources out there to help women start their own business. Take advantage of what is offered; women do not have to do it alone. I would also suggest that they contact DCWBC if they have questions about writing a business plan.
Additional Information:
Melissa Little is an attorney, certified diversity professional (CDP) and a certified mediator. She has extensive experience working with schools, government agencies, for profit and nonprofit businesses, as well as individuals as it relates to DEI and anti-discrimination laws and compliance matters. Melissa has authored a book, "Protecting Our Children Together: Minimizing the Psychological Harms of Racism", and several diversity and inclusion articles including "Implicit Bias: Be an Advocate for Change" and Building Positive Racial Identity for Children and Youth: Empowering a Just Future.
For more information or to schedule an initial consultation, contact Melissa A. Little Consulting & Mediation Services today.
Social media:
Website: www.mlittlecms.com