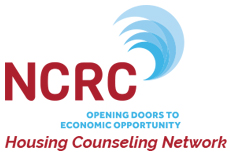 The National Community Reinvestment Coalition's Housing Counseling Network is a premier HUD-approved national housing counseling organization made up of over 50 housing counseling agencies across the nation. The housing counseling network mortgage advisors have provided counseling to almost 40,000 households this past year, with a wide range of services including:
To Purchase Your Home
PRE-PURCHASE COUNSELING
The Housing Counseling Network provides pre-purchase advisement which includes: budgeting, credit, financial management counseling, and savings techniques. Your Mortgage Advisor will provide individual attention to you to review your credit, budget, and affordability to determine when you are mortgage ready. To access NCRC's internet-based Money Management platform, eHomeAmerica, click here.
HOMEBUYER EDUCATION
Learn the 10 basic steps to purchasing a home! A Mortgage Advisor will review your credit, and pre-qualify you to determine if you are mortgage ready. The Housing Counseling Network uses the latest state of the art technology to acquire a pre-approved in a non-predatory environment with over 82 lenders to choose from. To access NCRC's internet-based education platform, eHomeAmerica, click here.
FULL DOCUMENT FILE REVIEW
Highly skilled mortgage advisors will conduct a thorough analysis of pertinent loan documents, such as, the new TRID documents, Appraisal, Mortgage, and Note to acknowledge an understanding of the documents by the purchaser and to determine if systemically fraudulent patterns exist. If such patterns exist the file will be forwarded to a specialist for further review.
To Save Your Home

MORTGAGE DELINQUENCY AND DEFAULT RESOLUTION
A Mortgage Advisor will assist homeowners and negotiate on their behalf, when possible, to address delinquencies and defaults. This process is achieved by through a thorough analysis of credit and developing a sound budget. Download Intake Packet
LOSS MITIGATION
A Mortgage Advisor will conduct an assessment of homeowner's situation, develop an action plan, review financial information, review credit, to determine a sustainable mortgage payment and negotiate on homeowner's behalf. Download Intake Packet
To Become Financially Secure
MONEY DEBT MANAGEMENT
Learn how to keep more of your money by understanding which debts to pay off first. A Mortgage Advisor will provide an in-depth analysis of your credit report and work with you to develop a budget and eliminate high cost credit cards. Are you curious about the CARD ACT? Schedule a counseling session today to find out more! To access NCRC's internet-based Money Management platform, eHomeAmerica, click here.
To Secure Your Home From Discrimination
FAIR HOUSING
NCRC's Center for Civil Rights provides support and assistance to persons, including tenants, landlords, and homeowners who believe they have been discriminated against on the basis of race, color, religion, national origin, sex, familial status, or handicap. For further information please contact Dee Claxton at dclaxton@ncrc.org or (202) 464-2711.
---
---