Where you live is one of the most significant components of overall health outcomes and life expectancy. Up to 60% of your health is determined solely by your zip code. This is largely due to the nature of the communities people reside in, such as whether it has wealth, whether or not there is strong community investment, and whether hospitals and health centers are present, among others. Your social and built environment determines your individual health and community health, above personal behavior and clinical care.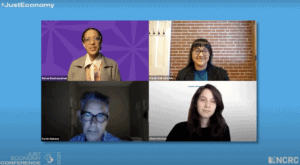 The 2021 Just Economy conference session, Bringing It All Together: Convening On Health And Community Development Investments, focused on the convergence of community health and the investments made into that community by health partners, banks, and more. The session's main focus was a conversation around the statistics of these investments by hospitals, specifically provided by Eileen Divringi of the Federal Reserve Bank of Philadelphia. A presentation was also given by Renae Badruzzaman from Build Healthy Places Network on a framework to induce collaboration and conversation. An outline for collaboration between these hospital organizations and community development was also discussed. 
With COVID-19, community health disparities have become more apparent and are approaching very critical levels. COVID-19 has elevated the ever-present issue of limited investment in low- and moderate-income (LMI) communities, including rural communities. One of the biggest components of this low investment is the simple lack of hospitals in high poverty and rural areas. Even when hospitals are present in these areas, they are small and often don't have the resources to contribute to community improvement, including health outcomes.

To be tax-exempt, hospitals have to provide other meaningful public services and contributions. This is broken into two categories, community benefits spending, and community building activities. For the latter, reporting is optional. On average per year, hospitals spend $67.9 billion on community benefits, where reporting is required. However, most of this is patient care, and only 6.9% of this spending is for community-based activities such as cash and in-kind contributions. As for community building expenditure, on average, hospitals spend $474 million per year.
One important trend to note: hospitals in the highest poverty-ridden counties report the least community expenditures; however, those in the second-highest poverty quintile report the largest amount of spending. The data provided shows there is a significant investment in wanting to make health systems better. Still, barriers to equal opportunity, including discrimination and disparities in access to health care, stand in the way of equitable health. Public and private relationships are needed to pull in state and federal resources to correct inequities in the healthcare system. 
Following the presentations, attendees went into small group breakout rooms to discuss their thoughts and reactions to the session presenters. Some common themes were the frustration among physicians wanting to do more for structural inequity. There was a conversation around structure and policy change, and they posted questions for correcting the issues brought to light by the presentations. Multiple physicians made the point that policy champions are needed to ensure policy changes work as intended and work to ensure accountability in the healthcare system. 
Housing is crucial to both policy development and community investment. Without secure housing you cannot have health security. The key to better health outcomes may lie within affordable housing for all, on top of hospital community investment.
Some suggestions were to change the reporting forms for Community Building Activities (most activities relating to or including housing) for more accountability in reporting on the hospital's end, and finding new incentives for physicians to practice in high poverty and rural areas. This reporting change would, in turn, grow the health systems in these areas, allowing them to potentially make more community contribution. Accountability and making sure hospitals should actually be tax-exempt is important for the IRS. Auditing on behalf of the government may correct this issue. Another suggestion was to make sure healthcare leaders are aware of the disparities around them, whether it be through training or other methods. Through reporting on health outcomes, this may lead to a more informed health system. Information is likely to play a key role, many attendees pointed out that misinformation and simple lack thereof may be contributing to the observed issues and inequities.
Until healthcare inequities are corrected, where you live will always be your ultimate determinant of health. The key to starting this systemic change is getting hospitals to take initiative and be interested in the needs of their surrounding communities. As studies have illustrated, hospitals that are engaged in holistic community wellness could ultimately improve health outcomes in the long run.
Emily Orminski is a Special Initiatives summer intern.
Photo by Ryan Heuer on Unsplash